Doctors in Training Class Action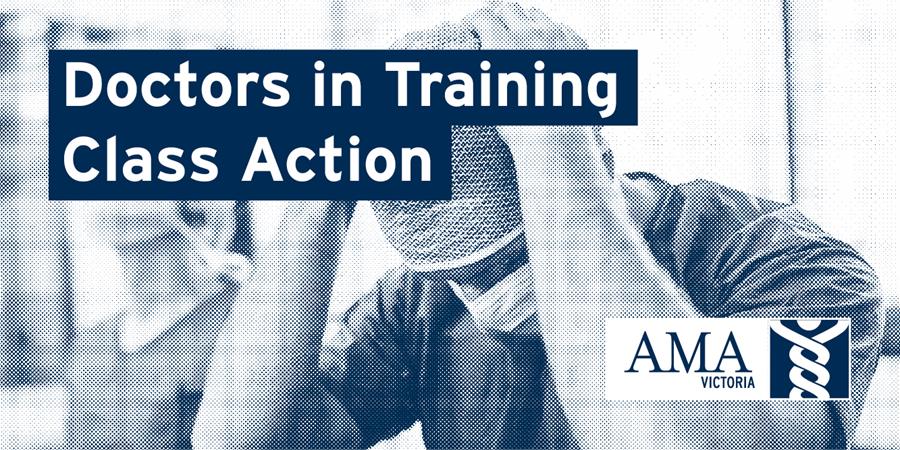 More than 1100 Victorian doctors in training have come together to file class actions against the state's health services for systemic and widespread underpayment of wages. Doctors are claiming repayment for unrostered overtime as well as penalties against the hospitals for breaches of the Fair Work Act.
Our strength is in numbers, so we are calling on all junior doctors to take a stand and register as soon as possible. We are taking legal action as a last resort. For decades we have been trying to work with health bureaucrats and various Victorian governments to fix this broken system that has junior doctors working often in excess of 25 hours a week overtime, most of it unpaid.
The Victorian Government could fix this problem with the stroke of a pen. We are calling on Health Minister, Martin Foley, to work with us to strengthen the health network and to provide fair working conditions for junior doctors.
If you are, or have been, a doctor-in-training in Victoria at any time since January 2015, please join us in this push for reform. It's strictly confidential, quick, free, and non-binding.

Junior doctors' class actions explained
Class actions are being led by a group of doctors in training, together with their representative body, ASMOF Victoria with support from AMA Victoria. The claimants and ASMOF Victoria are represented by law firms, Gordon Legal and Hayden Stephens and Associates on a 'No Win, No Fee' basis.
In the video below, Dr Karla Villafana-soto answers your questions about the claims.
How excessive workloads and understaffing impacts doctors
Dr Gavin Wayne is a third year junior doctor who has registered for class action. Like many others who have signed up, Gavin works long hours on busy shifts with few, if any, breaks.
"It is often the case that a 12-hour rostered shift can suddenly become a 16-hour day when unpaid overtime is added. This is not unusual and often happens days on end. After three or four days of this we are working in a haze, mistakes happen, and patients are put at risk.
"This is no way to run a first world health system, it's not safe for patients and it's not safe for doctors."
The AMA Victoria Hospital Health Check surveyed more than 1,000 junior doctors working in public hospitals across Victoria. Of more than 1,000 junior doctors surveyed:
47 per cent reported making a clinical error due to fatigue
50 per cent said they had made an error due to excessive workload or understaffing
47 per cent reported never being paid for unrostered overtime
34 per cent raised serious concerns about their workload but were ignored
Read the 2021 Hospital Health Check here.
Who to contact about class actions
Sign up to stay informed via Gordon Legal's website. Queries about the class actions can be directed to AMA Victoria's Workplace Relations Team via phone: (03) 9280 8722 or email: amavic@amavic.com.au.
Court documents
Copies of the court documents in the proceedings that have been issued are available below.
Monash Health Proceeding – ASMOF & Anor v Monash Health VID 210/2021
Northern Health Proceeding – ASMOF & Anor v Northern Health VID 760/2021
Bendigo Health Proceeding – ASMOF & Anor v Bendigo Health VID 774/2021
Eastern Health and Royal Women's Hospital Proceeding – ASMOF & Anor v Eastern Health VID 611/2021

Peninsula Proceeding – ASMOF & Anor v Peninsula Health VID 115/2021
Monash & Latrobe Proceeding – ASMOF & Anor v Monash Health & Latrobe Regional Hospital 210/2021
Western Proceeding – ASMOF & Anor v Western Health 419/2021

St Vincent's & Alfred Health Proceeding – ASMOF & Anor v St Vincent's & Alfred Health VID 700/2021

Further information