VICDOC magazine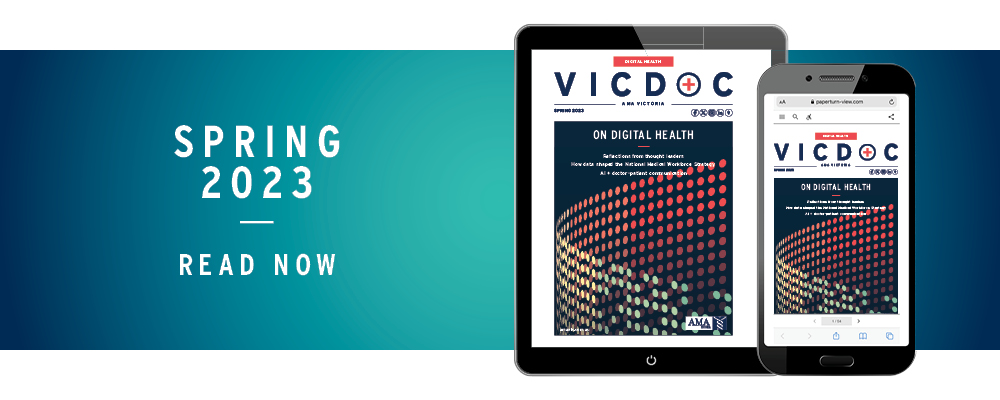 Vicdoc is AMA Victoria's member magazine. It contains news and in-depth analysis on issues affecting the medical profession in Victoria.
Delivered digitally every quarter, members can stay informed on lobbying and policy developments, industrial relations, employment concerns and medico-legal matters. Vicdoc also offers features stories on individual doctors and news on developments in medicine from Victoria's research organisations.
With Vicdoc, members can contribute to debates, raise issues of importance and share their opinions.

Latest issue
The Spring 2023 VICDOC magazine is now online for you to access at the click of a button.
AMA Victoria members
Read VICDOC at the link below.
READ VICDOC

Non-members
Not yet an AMA Victoria member? Join to access VICDOC.
Some of the features you might enjoy in this edition include:
On Digital Health
Reflections from thought leaders on digital healthcare, data security and how digital technology is shaping future healthcare.

Class action win for Victorian junior doctors
In a groundbreaking class action victory set to expose the excessive unpaid hours of junior doctors in our hospitals, health services across Victoria must now face the prospect of paying millions of dollars for wage theft.

Drilling down
Insights into how data has shaped the national medical workforce strategy.

The rise of the Google Doc
Monique Wisnewski ponders the pros and cons of online learning and what impact being part of the 'Google Doc generation' is going to have on today's medical students.

Can AI improve doctor-patient connection?
Two Victorian doctors and AMA members have developed and released the world's first AI-driven consultation app, ConsultNote.ai, and hope it will usher in a new era of improved connection with patients for doctors - and doctors with patients.

Switched on: facilitating women's involvement in digital health
The 2023 Australasian Institute of Digital Health's Women in Digital Health (WIDH) Leadership program wrapped at the end of August. We asked one of the program's six mentors, A/Prof Magdalena Simonis, about digital health and why it's important to nurture women's involvement in the field.

Contribute to Vicdoc
AMA Victoria welcomes contributions from members.
If you've done something significant in the medical world, know someone who has, or if you simply have an idea for a story, let us know. AMA Victoria accepts proposals for articles from individuals and organisations. These are assessed according to our editorial guidelines.
For editorial submissions, please contact Vicdoc Editor Taryn Sheehy at taryns@amavic.com.au.
Copy deadline: 5th of each month prior to publication.

Advertise with us
VICDOC is a great way for businesses serving the medical profession to reach Victorian doctors.
Classifieds ads are free for members (two per calendar year and maximum of 50 words). For more information on advertising rates, click here.