CPD Home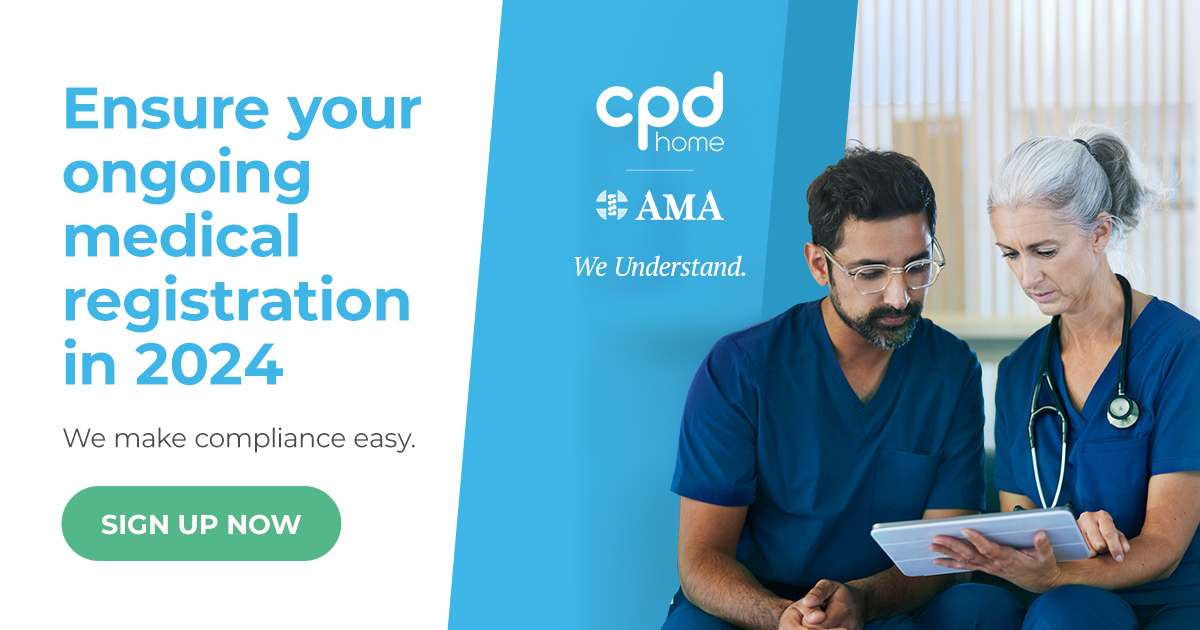 AMA Victoria members, ensure your ongoing medical registration in 2024 by subscribing to 'AMA CPD Home'. As a valued member, you will receive 50% off your AMA CPD Home subscription.
AMA Victoria member prices:
Full time doctors ('AMA/ASA Member CPD Home Subscriber') - $440
Junior doctors / accredited trainees in full-time or part-time employment (PGY3+ in 2024) ('AMA Member Junior Doctor Subscriber') - $220 per annum
From 1 January 2024, all doctors who are PGY3+ (in 2024) must subscribe to a CPD Home to ensure their ongoing medical registration in 2024. Keen to know more about the changes to CPD and how it affects you? Click here to learn more.

What is CPD Home?
CPD Home provides its subscribers with a CPD Program specifically designed to support non-exempt medical practitioners to meet their CPD requirements under the Medical Board of Australia (MBA) Registration Standard: Continuing Professional Development (the Standard).
CPD Home offers its subscribers accredited, peer-reviewed medical learning, effortless CPD tracking, and reporting.
For any questions about CPD Home, please contact the CPD Home team here.

The CPD standard for doctors is changing
The Medical Board of Australia (MBA) has amended the Continuing Professional Development (CPD) requirements for medical practitioners, with the new changes to come into effect in 2023.
Interns and specialist trainees will meet the requirements by participating in their accredited training programs. All other practitioners with a practising form of registration who are non-exempt and satisfactorily meet recency of practice will be required to complete 50 hours of CPD annually. This includes a written personal CPD plan and reflection, and at least 25 hours spent completing more active forms of CPD (reviewing performance and measuring outcomes).
Independently self-managing CPD will no longer be an option. From 2024, all non-exempt medical practitioners will be required to have a CPD home that will manage their CPD compliance in line with their scope of practice. For many with specialist registration, their CPD home may continue to be their specialty college.
At renewal of registration, each practitioner will be asked to declare that they have completed appropriate CPD for their scope of practice, which aligns with their CPD home program of learning. Where a speciality medical college has higher order CPD requirements, this learning will also be captured through their chosen CPD home program.
As the new CPD requirements to keep up with individual medical registration are set by the Medical Board of Australia (MBA), all questions regarding the changes should be directed to AHPRA.

How do I learn more?